Water is life. But dirty and contaminated water breeds death. The knowledge of the correlation between clean water and good health is probably many centuries old. In all honesty now, it is basic knowledge.
Yet it is 2019 and on March 22, we have serious cause to reflect on the many challenges we continue to face as a result of lack clean water, while highlighting the potential risk. In other word, we have not done very well by the knowledge we acquired centuries ago. Today, "an estimated 100 million Nigerians still lack basic sanitation facilities and 63 million do not have access to improved source of drinking-water." – World Health Organisation (2014). By simple logic, it is safe to assume that an estimated 100 million Nigerians are at risk of water related diseases. Whether or not this figure will rise or drop is entirely up to your imagination.
However, the reality is not lost to all. Thus, all is not lost. The TY Danjuma Foundation like many other global organisations continues to promote and invest in access to clean portable water especially in remote communities in Nigeria.
To mark the 2019 World Water Day, the Foundation supported a school quiz to promote clean water and hand washing for the prevention of diseases and with partners, demonstrated hand washing to pupils at LEA Primary School, Dako in Gwagwalada Area Council of the FCT.
In the last 9 years, the Foundation has rehabilitated over a 100 hand pumps in communities in Taraba state, built a system of motorized borehole and water storage in 4 communities including the Federal Capital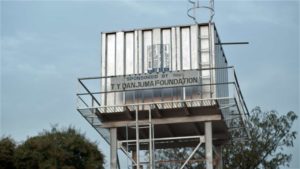 Territory, and supported water and sanitation projects in 3 IDP camps in Benue, Edo, and the FCT. Recently as January 2019, the Foundation commissioned a motorized borehole with a 45,000-liters overhead tank capacity in Bika Lupwe Community in Taraba state.
The Foundation has been at the forefront of improving access to quality health care and access to portable water in Nigeria, which has impacted a large number of people nationwide