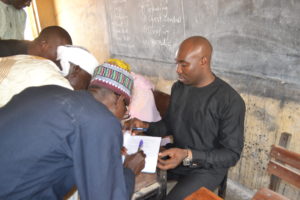 The TY Danjuma Foundation has signed a Memorandum of Understanding (MoU) with Dako LEA Primary School Community Based Management Committee and Gwagwalada Local Education Authority.
The tripartite agreement seeks to restore and uphold a good learning environment in Dako LEA Primary School from the year 2020 onward and to put in place a framework for identifying and resolving problems in the school as they arise. The need to bring together stakeholders underscores the Foundation's value of community involvement as well as highlight the Foundation's commitment to creating a more conducive learning environment that will further encourage enrolment, retention and completion of education in pupils in Dako and environs.
Since 2011, the Foundation has supported Dako LEA primary school with infrastructural development and school feeding which positively transformed the school. This outing is a continuation of the Foundation's effort in engaging the school administration, local education authority and community leaders on improving the learning environment and learning outcomes in Dako LEA primary school.
Click HERE to watch a video of our interventions in Dako LEA Primary School.