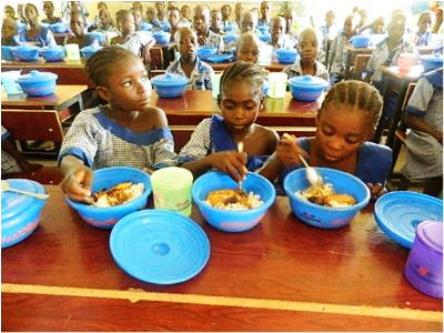 TY Danjuma Foundation in partnership with FAWOYDI has funded a pilot school feeding project in Fadama Primary School in Takum Local Government Area. The School Feeding Programme in Taraba is aimed at increasing enrolment and retention of pupils in primary schools. The programme is to serve primary pupils in selected schools in the FCT and Taraba.
Since commencement of implementation in Fadama Primary School in Takum Local Government Area, the Programme has witnessed more than 100% increase in enrolment and re-enrolment of pupils. Statistics form the Education Secretary of Takum LGA, Mr. Hosea Burba show that enrolment has increased from 63 before the intervention to 172 pupils since the intervention by the Foundation. The intervention has spurred the Taraba State Universal Basic Education Board (TSUBEB) to include fencing of the school in their work plan and to consider replicating the School Feeding Programme in some schools in Taraba State for sustainability of the programme.
Figure 1: Increasing Enrolment & Retention through Feeding.
The TY Danjuma Foundation has funded the Fahimta Women and Youth Development Initiative (FAWOYDI) to construct a block of 2 classrooms each with gender based toilet facilities, in Yusa A community of Lau LGA and Kwanan Dutse community of Ardo Kola LGA. Prior to the intervention by TYDF, Yusa A Primary school was without a structure. Pupils sat under the trees to learn and in the rainy season, they barely come to school as there were no shelters for both the pupils and the teachers.
In 2011, the Foundation also championed the construction of blocks of classrooms in Fulataran, Darazo Local Government Area of Bauchi state, a rural community where learning took place under a tree by the chief's palace. Visible success of the project continues to be a rallying point in pushing for quality education for pupils in rural communities.
Both projects received support from the Local Government and community.