On Monday, October 24, 2016, The TY Danjuma Foundation, TY Holdings, and Chairmen of Takum, Ussa, and Donga Local Government Areas formally handed over project site for the construction of a Maternity Referral Centre to Development Africa and signed the Memorandum of Understanding for the project. The event signified the start of construction work on the project.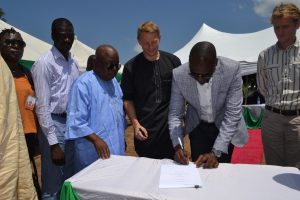 The Maternity Referral Centre will go a long way in reducing maternal and infant mortality rate in the LGA and its environs.  The center, when completed, will have up to date and world-class equipment that will be used to address maternal and infant health matters as well as Doctors and Nurses Quarters to house the personnel. Several packages, including training of Health Personnel, have been built into the project design to ensure the project succeeds. Beyond building the hospital structure, the entire facility will be Solar powered to ensure constant power supply.
In 2015, The Chairman and Founder of the TY Danjuma Foundation in one of his many efforts to promote well-being of people in the rural and under-served communities had awarded funds for the construction of a Maternity Referral Centre (MRC) in Takum LGA of Taraba State to Development Africa, a missionary organisation based in Lagos, Nigeria. Since that time, several deliberations and reviews were held which have finally culminated in the final take-off of the project. And in August of 2016, the Executive Governor of Taraba State gave approval for a piece of land to be released for the project. The 6-hectare land is situated opposite Government Day Secondary School, along Takum-Lupwe Road.
The project which is a public and private partnership endeavor is expected to be completed within a year, and on completion, it is hoped that it will serve the neighboring LGAs and parts of Benue State. The Maternal Referral Centre project is very important to the Chairman as it is his desire to see that infant and maternal mortality rate is reduced to the barest minimum in our society.
The handover ceremony which held on the 6-hectare Project Site had in attendance dignitaries and key stakeholders from within the state and beyond. Some of those in attendance were the Taraba State Governor, ably represented by the State Commissioner for Health; Traditional Rulers; Security Agencies; Government Officials and other dignitaries.