After about 7 years of implementing health projects in partnership with our legacy grantees, the Foundation commenced an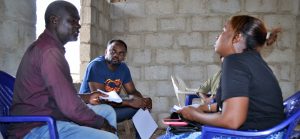 impact evaluation of some of our legacy projects carried out from 2010 to 2017 in Taraba, Imo, Edo, and Nassarawa States.
The projects to be evaluated are; Comprehensive Free Eye Care Programme by Care Vision Support Initiative (CAVSI), provision of Community-Based Integrated Healthcare Services by ProHealth International(PHI), and Village Level Operation and Maintenance of Hand Pumps by Tulsi Chanrai Foundation and (TCF)
We believe that this evaluation will show what results have been achieved as well as examine the factors that facilitated or hindered the achievement of the goals of the selected projects in order to provide practical recommendations we can use to improve the design, implementation, management, and coordination of our future projects.
We are delighted that this evaluation process is driven by EpiAFRIC and her competent Health Research Team.