The TY Danjuma Foundation, in partnership with the Noroware Osula Health Foundation and the Edo State Primary Healthcare Board, recently conducted a five-day medical outreach focused on eye Screening and treatment at the Urban Health Centre in Auchi, Edo state. This initiative is part of the Foundation's ongoing effort to combat preventable blindness in Nigeria by integrating eye health into routine services at Primary Healthcare Centres.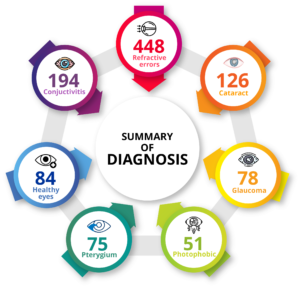 Approximately 1000 people benefited from the program, which offered services such as acuity testing, refraction, blood sugar and BP testing, drug prescription, distribution of reading/special glasses and the donation of testing tools to the health centres. Additionally, primary health workers received training in basic eye care and testing, and a project monitoring committee was established to raise awareness about eye health and ensure the sustainability of the intervention.
The successful partnership with Noroware Osula Health Foundation to integrate eye health into routine services offered at the health centre is enabling timely detection and treatment of eye problems and contributing to tackling the issue of preventable blindness as summarised in the outcomes of the intervention below: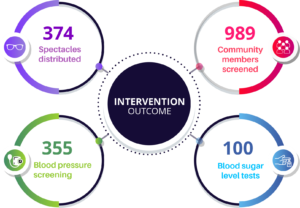 Following the eye screening, pterygium and mature cataract cases were referred for further review, which will culminate in surgery. Other patients received on-the-spot treatments, medication, medical advice, and supplements such as vitamin C and yeast tablets to boost the immune system.
Over the last five years, the Foundation has joined forces with Noroware Osula Health Foundation to tackle preventable blindness in Edo state. Together, we have improved access to affordable and quality eyecare in 6 Local Government Areas of the state, benefiting over 10,000 people.