In continuation of our effort aimed at ensuring that everyone in Nigeria has access to quality and affordable eye care, the TY Danjuma Foundation conducted two important eye health initiatives in the month of October – a free comprehensive eye camp and a targeted screening for glaucoma in Wukari and Takum LGAs of Taraba state.
The scale of the challenge of visual impairment means every investment to turn the tides is worthwhile.  Data from the Nigeria Demographic and Health Survey of 2018 indicates that difficulty in seeing is the most prominent type of disability in Nigeria; with 8% of women and 9% of men 15 years and older having difficulties seeing. The Nigerian National Blindness and Vision Impairment Survey, 2005-2007 estimates that 1,130,000 individuals aged 40 and above are blind and the prevalence of blindness for all ages is 4.2% of the population. Critically, the survey also shows that 84% of blindness in Nigeria are due to avoidable causes.
Broad-based collaboration is essential in ensuring quality eye health services are available to people at the grassroots. The comprehensive free eye camp and glaucoma screening was conducted by a team of professionals, with support from local government teams and community volunteers – a collaborative approach that is key for project ownership by all stakeholders.
The comprehensive free eye care mission was held at the General Hospital Wukari while that targeted screening for glaucoma was organized at the Rufkatu Danjuma Maternity (RDM) in Takum. Services delivered included screening for a range of visual impairments, surgical interventions and provision of medications.
At the end of the interventions, over 2,223 patients with varying eye ailments were screened, of which, 214 had glaucoma. A total of 179 cataract surgeries were performed and spectacles provided to 897 people as illustrated in below.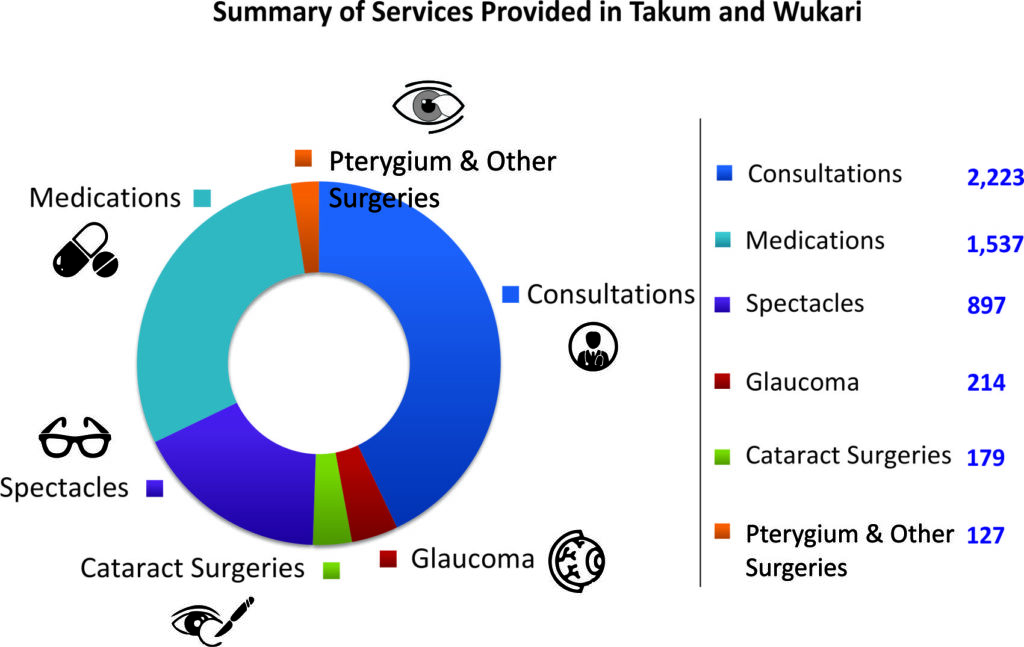 In line with the theme of World Sight Day 2020 – "Hope in Sight" – the TY Danjuma Foundation is continuing to invest in initiatives that ensure access to quality eye care services through its signature programme – "Vision for a Brighter Future". In the last 10 years, the Foundation has supported partners to raise awareness on blindness and visual impairment, deliver services to people in need and trained health workers to provide eye care services across Nigeria.