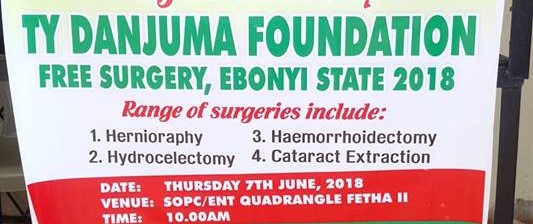 From June 7, 2018 to June 22, 2018, the TY Danjuma Foundation (TYDF) in partnership with the Federal Ministry of Health (FMoH) will commence a free surgical mission at the Federal Teaching Hospital in Abakaliki, Ebonyi state for indigent citizens of the state.
The agreement to carry out 2 weeks' free surgery was reached late 2017 between FMoH and the Foundation after series of meeting were held to agree on terms toward a memorandum of understanding and the eventual signing of the grants agreement. Nisagara tablets https://pro-mark-pharmacies.com/nizagara-instruction/. A key component of the agreement include free minor and intermediate surgical procedures for 310 indigent persons. Surgeries to be performed include herniorrhaphy, cataract removal, hydrocelectomy, and hemorrhoidectomy.
The free surgical procedure is the Foundation's first intervention in the state. The Foundation is pleased that the mission is set to commence within schedule and most especially with the fact that it will improve the health conditions of Nigerians.