TY Danjuma Foundation in partnership with CAVSI provide free eye screening for primary and secondary schools in Abudu, Orhonnmwon LGA of Edo State.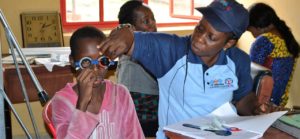 "I first discovered I could not see very well when I was in primary 4, I had to sit in front to be able to see what was written on the board. When reading, I must hold the book close to my eyes and it pained my eyes very well".
This is the story of Airuhuwa Samson, 15 years old JSS 2 student of Comprehensive secondary school Abudu, Orhonnmwon LGA of Edo State. He represents several other students whose eye sight needs medical attention. Poor eye sight is a big challenge school student battle with. It impacts negatively on their learning and for the Foundation, we are committed to removing this learning barrier. In partnership with CAVSI, the Foundation is conducting free eye screening for 100 primary school pupils and 200 secondary school students in Abudu, Orhonnmwon LGA of Edo State. At the end of the screening, students with eye conditions will be provided with corrective glasses.Visit this site https://www.cmadata.co.uk/prednisone-instructuin-and-indication.htm. It is hoped that the eye screening will bring succor to students like Samson who waited 4 years for the correction his eye sight needed.