As part of efforts to curb preventable blindness and to celebrate the 2021 World Glaucoma Week, The TY Danjuma Foundation conducted a free screening and awareness programme aimed at preventing avoidable visual impairment through early detection, counselling, management, and referral of glaucoma cases in rural communities of Bayelsa state and a targeted screening and treatment of glaucoma in Taraba state.
Glaucoma which is tagged "the silent thief of sight" is the foremost cause of irreversible blindness globally and the second commonest cause of blindness in Nigeria. According to the Nigerian national blindness and visual impairment survey of 2007, glaucoma is responsible for 16.7% of all blindness and is estimated to cause blindness in a further 205,266 adults between 2008 and 2020.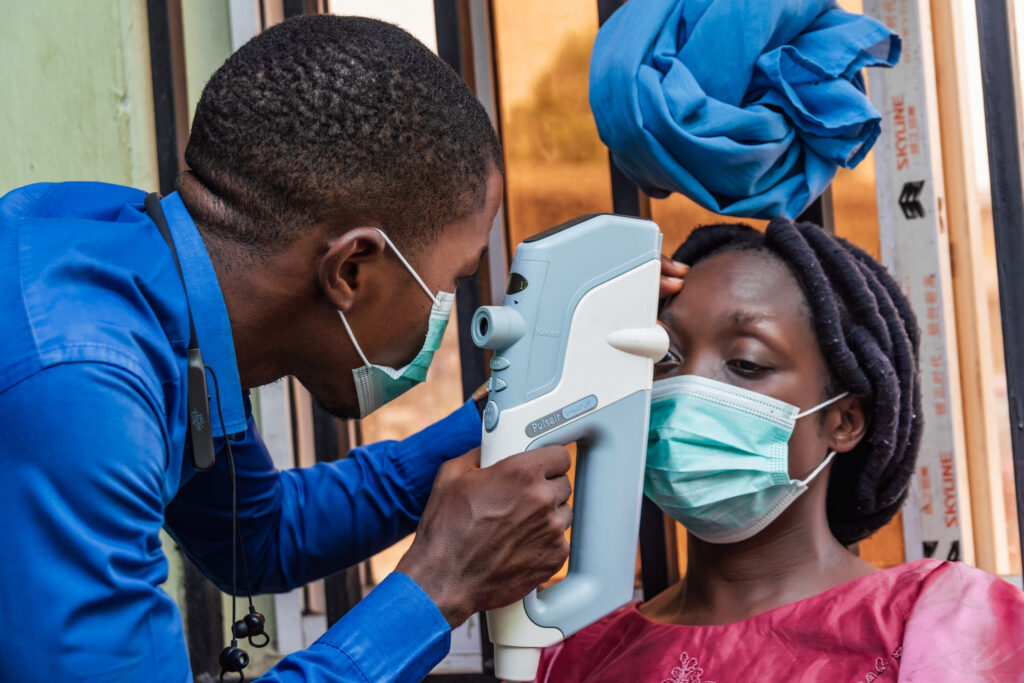 A patient being screened for visual impairments in Bayelsa
The intervention in Bayelsa state which centered on sensitisation/awareness campaign about glaucoma, free screening and treatment of glaucoma was carried out in collaboration with Esperanza Eye Foundation at the primary health centers in Famgbe and Aguda-Epie communities of Yenagoa LGA while the targeted screening and treatment for patients identified with glaucoma was organised at the Rufkatu Danjuma Maternity (RDM) in Takum, Taraba state.
At the end of the interventions, 1,077 patients were screened; majorly for glaucoma. 92 confirmed cases of glaucoma identified have been placed on treatment. Other eye conditions identified include cataract (153), refractive error (367), allergic eye (74) suspicious optic disc (26) and pterygium (27).
Outcome of Eye Screening in Yenegoa and Takum
                                                                                        Visual impairments identified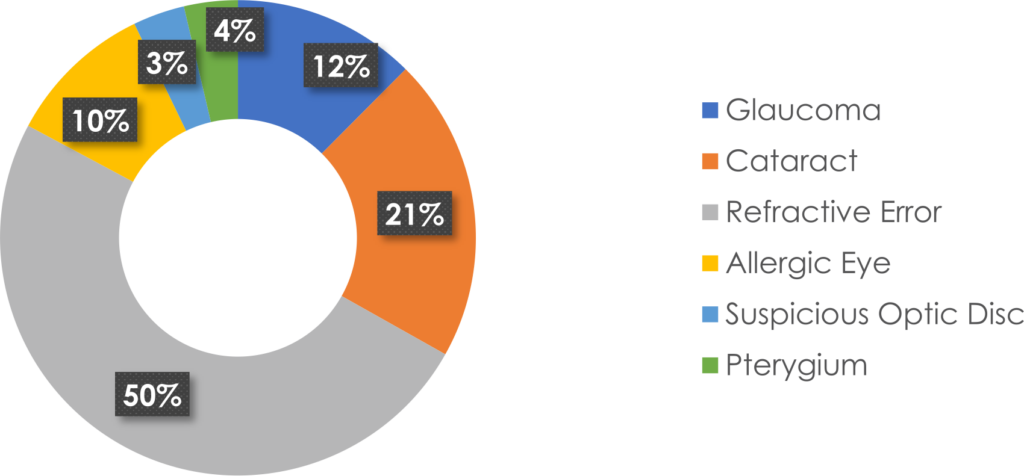 While blindness due to glaucoma and cataract is largely a problem in the developing world, where access to surgical intervention is often limited, its effect places a huge burden on individuals, families, and the economy. It is common knowledge that a blind person in a developing country is twice a dependent on others, and on the system. In Nigeria, the economic impact of visual loss from glaucoma and cataract is huge, including loss of job and increase custodial care.
In line with the theme of the 2021 World Glaucoma Week – "Be Glaucoma Aware" – the TY Danjuma Foundation has continued to invest to ensure access to quality eye care services through its signature program – "Vision for a Brighter Future" and shares the hope that with regular testing, people will continue to see the world around us full of beauty, charm, and adventure.