Over 100,000 Nigerians are diagnosed with cancer every year, out of which about 80,000 die due to late detection or presentation. A ratio of 4 in 5 makes Nigeria the country with the worst cancer death ration in the world. A woman dies of cervical cancer every hour in Nigeria and Breast cancer now kills 40 Nigerian women every day. According to 2013 report by Word Health Organisation (WHO), prostate cancer kills 26 Nigerian men every day.
Cervical cancer is virtually 100% preventable and the survival rate for early stage breast cancer and early stage prostate cancer is practically 100%. Some children have been diagnosed with cancer leading to the conclusion that cancer can affect anyone, irrespective of age sex or social class.
The good news is that most cancers are preventable through massive awareness creation, lifestyle changes, early detection and timely uptake of treatment according to the WHO.
It is on this basis that the TY Danjuma Foundation funded the Community Campaign against Cancer project implemented by Initiative for the Development of the Next Generation (Next Gen) in Orhiomwhon LGA of Edo state. Next Gen applied simple methods that have been approved by the World Health Organization in low-resourced areas such as rural communities which do not require complicated procedure.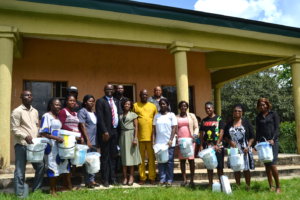 The project trained 49 primary health workers from across the LGA on screening for cervical cancer using visual inspection with acetic acid and the rapid test for prostate cancer with Prostrate Specific Antigens (PSA). 10 Primary Health Centres (PHC) from the LGA received tools and reagents to carry out these tests and continue with the campaign for early detection.
Collaboration has been established between the PHC and the General Hospital, Abudu for further tests, counseling and treatments of suspected cases. The General Hospital, Abudu has also been supported with a cryotherapy machine to treat mild cases of cervical cancer.